WordPress is a popular free software for personal publications (blogs). It uses PHP and MySQL as server-side technologies. Its installation/maintenance is quite easy.

• Requirements

To install WordPress on your hosting account, you need:

- 80 MB free disk space
- one free MySQL database slot. The database will be created by the automatic installation script.
• Installation
To install WordPress, please navigate to the WordPress -> Install WordPress section of your hosting Control Panel.
Please fill in the following fields:
Site Title: You need to enter the name of your WordPress site. You choose this name. For example, it can be related to the content of the blog, the name of your company, your domain name, etc.
Subdomain: Choose the subdomain, in which you want WordPress installed.
If you want to install WordPress in a new subdomain, click on the link Create a subdomain, which will take you to the Subdomains section of the Control panel.
Path: If you wish to install WordPress in the main folder of the subdomain you have chosen, you can leave this field empty. If you wish to install in a subfolder, please click the

icon and choose an installation folder.
Use WWW: Prefix the address with www.
Use HTTPS: Set the site to use HTTPS instead of HTTP. This is only possible if there is a valid SSL certificate installed for the host.
| | |
| --- | --- |
| | We advise that you install WordPress in a folder that does not contain other files and folders, as they can be overwritten by the installation script. |
Username: Enter the username that you want to use for administering your site. You will be able to create additional WordPress users later, through the administrative panel of WordPress.
Password: Enter a password for the above username.
Password Again: Enter the password again.
Е-Mail:Enter the email address of the main user for administration. You will need this email for example to retrieve the password of your WordPress main user for administration (in case it is lost).

Accept license agreement: You need to check the license of WordPress and accept it.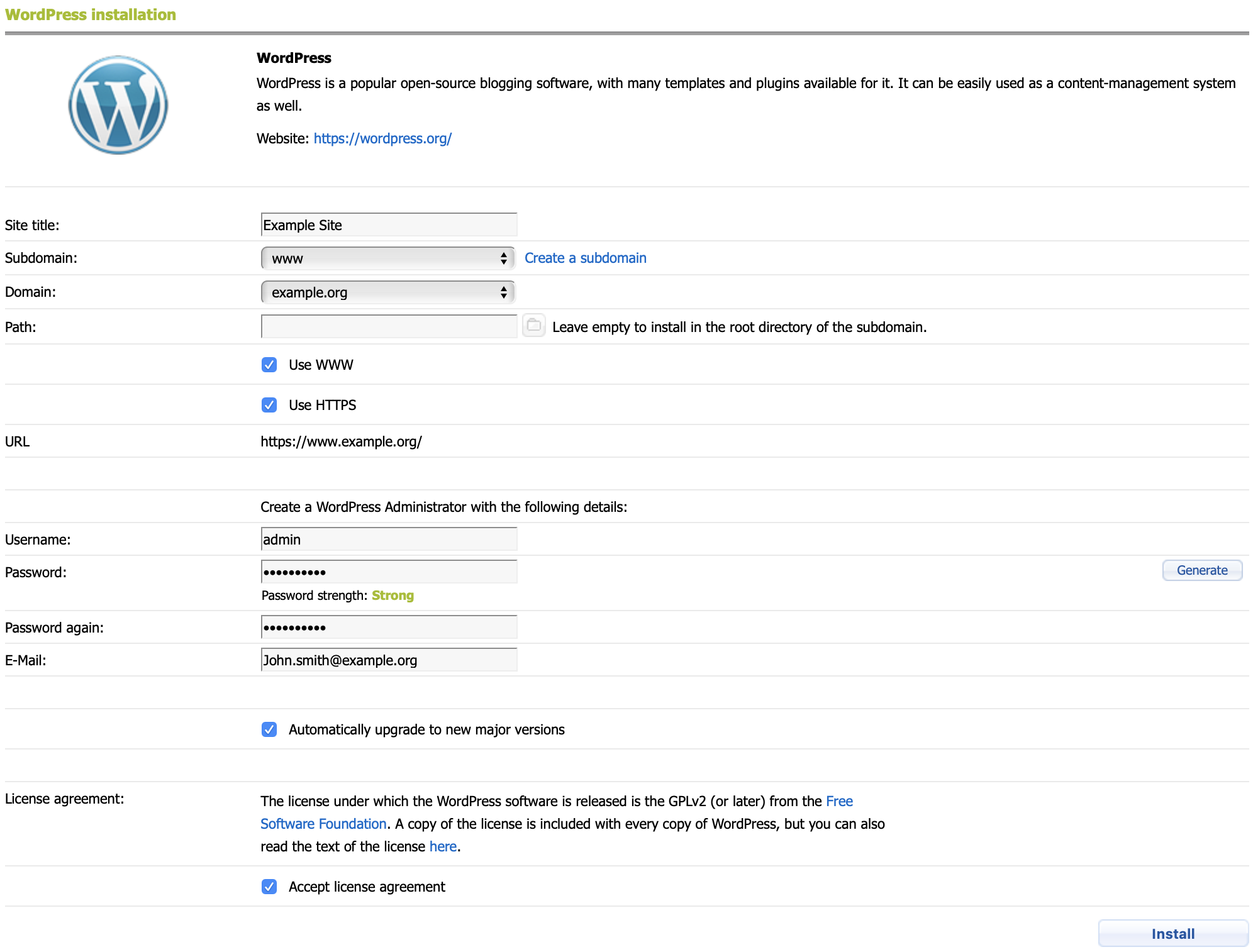 After you fill in the above fields, click on the Install button. If the folder you are installing to contains files/folders, you will see a warning. If you want to choose another subdomain or subfolder for the installation, you need to click on the Cancel button. Otherwise, you can click on the Continue button.

If the WordPress installation completes successfully, you will see a screen with the installation details:



| | |
| --- | --- |
| | We strongly advise you that you keep your WordPress installation up-to-date, along with the plugins you add. You can perform the updates through the administrative section of your WordPress, where you will see notices that new versions of your WordPress and/or plugins are available. |
For instructions on installing WordPress manually, check our Installing WordPress [version 5.x.x] article.