Here are just some of the reasons why backups are essential:
No one is immune to security incidents - the sad reality of the Internet is such that websites get hacked all the time. If you have a website, there is always the chance it could get hacked. That's especially true in the modern day era of common CMS applications with thousands of plugins developed by various vendors, some of which with quite dubious qualities. Having a clean backup to restore from can save you thousands of dollars in lost profit, not to mention all the stress and nerves.
When software updates go wrong - there are thousands of horror stories on the Internet of people ending up with a broken website/application/plugin, because of a recent update. You don't have to be one of them. CMS applications like WordPress, Joomla, Drupal, etc. consist of various plugins, themes, and modules with updates for them being released on a regular basis. Thanks to our backup system, you don't have to cross your fingers any time you decide to press the "Update" button. If something goes wrong, you can always restore your website back up to a working state from one of our system backups. You can also opt to create a personal backup before you proceed with such tasks.
People make mistakes - the human factor should be considered as well. We, as people, are bound to make mistakes. Anyone that has ever worked with computer software, whether it's an application, or a website, has made an accidental mistake by deleting a file unintentionally, pushed the wrong button, or changed a line of code that led to unpredicted results. Fortunately, in the world of computers, such mistakes don't have to carry catastrophic consequences. Our system makes daily backups of your entire account data, including all files and databases, and each backup is kept for seven days. This allows you to easily undo such mistakes using the Restore tool in the Control Panel.
Our system makes automated daily backups of your entire account, including files, databases, and email messages, and each backup is kept for seven days on a different machine. You can restore your data up to seven days back from these System Backups via the "Restore" section of the hosting Control Panel. You can opt to restore just a selection of files and folders, an entire database or a selection of tables, and even the missing messages or address book entries from your mailbox. It's also important to note that the System Backups do not count towards your disk space quota.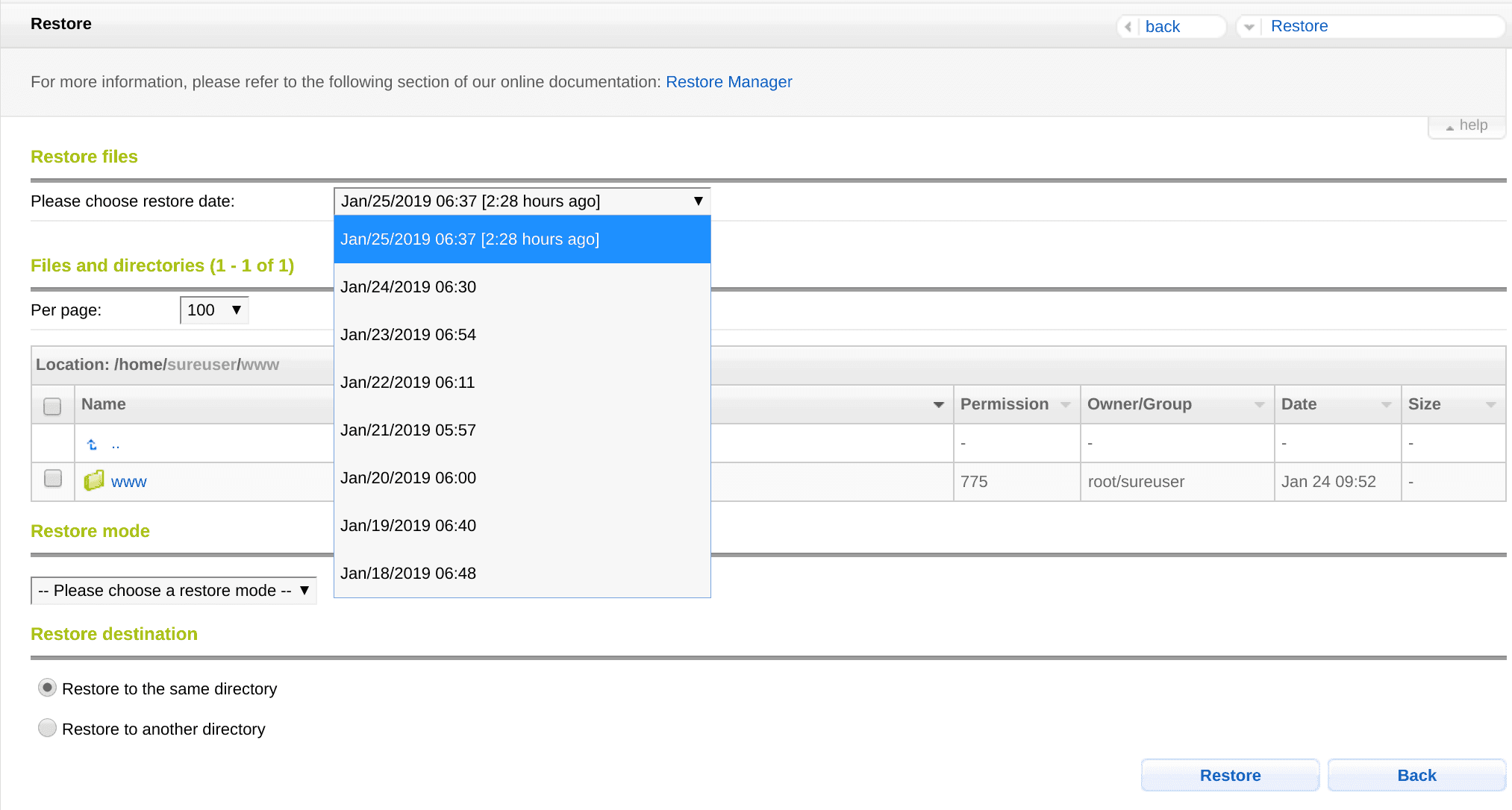 You can create Personal Backups on demand. You can generate a Personal Backup from the Backup section in the Control Panel. When you make a Personal Backup, it is kept on the server for three days by default, but you can choose to save it permanently in your user space. If you do this, it is kept until you delete it. Permanently saved Personal Backups count towards your disk space quota.

Yes, you don't have to contact us every time you wish to restore data from the System or Personal Backups, although we will gladly assist if you need our help. You can easily restore files, MySQL databases, and mailbox from the System Backups or from your Personal Backups (if you have created such) using the Restore Manager in the Control Panel.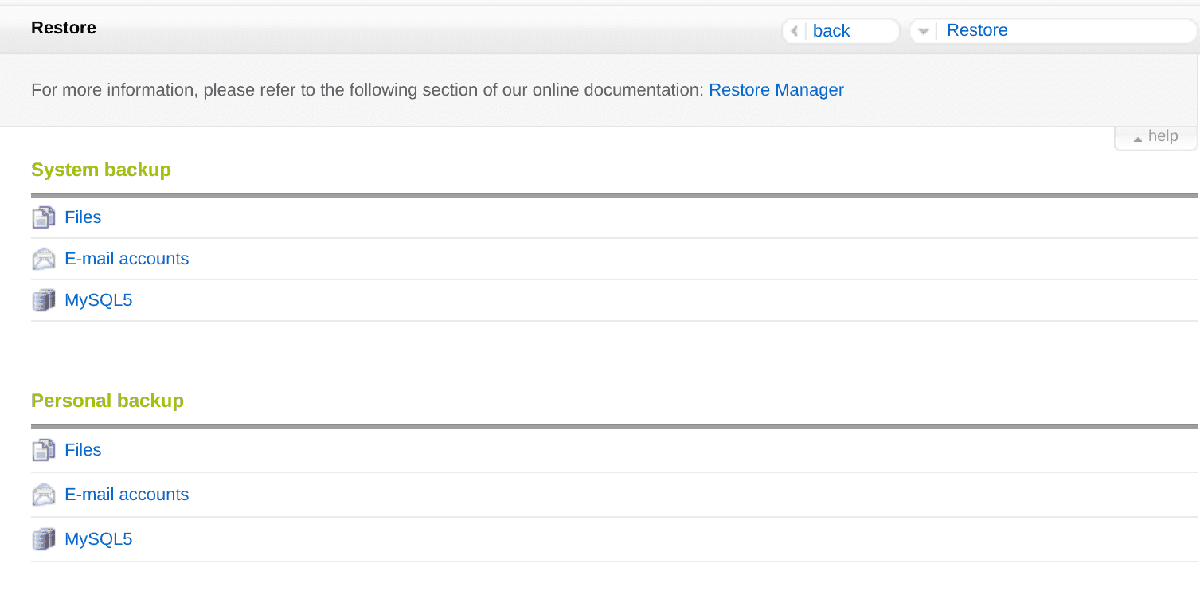 The flexibility of our backup system allows you to choose among three different restore modes depending on your situation:
Merge, No overwrite - Only old files that are not currently present in the folder will be restored, and no existing files will be overwritten.
Merge, Overwrite - Old files that are not currently present in the folder will be restored, and files that exist both in the backup and in your account will be overwritten with the backup copies.
Delete, Overwrite - The existing files in the folder will be deleted, and you will get an exact complete restore from the backup.
Unlike other hosting providers, our automated backup system comes without any restrictions or hidden catches. We back up your entire account, every day of the week, regardless of its size or inodes number, and our system backups go seven days back. If you look at the fine print of the backup service terms of other providers, you will find a number of different limitations.
Yes, we make daily backups of all mailboxes under the account, and each backup is kept for seven days. Thus, we have email backups stretching seven days back. The backups contain only the messages that are present in a given mailbox when a backup is created. If you are missing a given message, you can try to recover it from our system backups.
Our backup service is included for free with all hosting plans. For accounts on shared servers, the System Backups go seven days back, while System Backups on the VPS (First Class and Ultimate) and WebApps plans are kept for 15 days. The System Backups are not counted towards your disk space quota. Moreover, we do not impose any restrictions, as we back up your entire account regardless of its size and number of inodes (files and folders). You can also easily create your own Personal Backups and opt whether to keep them permanently or have them deleted automatically after three days. Lastly, restoring from the backups is quite easy using the Restore section of the Control Panel.

There are a lot of hosting providers whose automatic backup service runs once a week on a random day, and each run overwrites any previous backups. Only one system backup is kept at a time. Others impose an additional monthly charge for a backup service similar to ours. Or, they would claim to perform regular backups of your entire account, but would require payment should you wish to restore data. Most providers apply certain restrictions whereby weekly backups of shared servers are performed ONLY for accounts that are under a certain size and inodes number - e.g. 3 GB and 100,000 inodes.