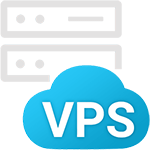 SmartVPS - the complete multi-account hosting solution!
Each individual account comes with free backups, addon domains, PHP-FPM with OPcache and server-side caching for lightning-fast sites. And all this at a great price!

50% OFF ALL NEW PLANS TO HELP MORE BUSINESSES MOVE ONLINE
DNS (nameservers) information
After you sign up for a hosting account, you will receive a welcome email message at the email address(es) provided during the registration. This message will contain the nameserver addresses that you should point your domain name to, along with other important information regarding your new hosting account.