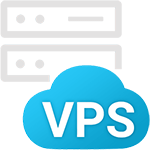 SmartVPS - the complete multi-account hosting solution!
Each individual account comes with free backups, addon domains, PHP-FPM with OPcache and server-side caching for lightning-fast sites. And all this at a great price!

75% OFF ALL NEW PLANS + 100-DAY MONEY-BACK GUARANTEE
If, for any reason, you have to submit a relatively small amount (under USD 5.00) through the Account Panel, we may choose not to require an immediate payment for it. Instead, we will add it as a debit to your account balance, and the amount will be added to your next payment, whenever that comes.