We just launched a free video conferencing service for all our clients based on the open-source Jitsi Meet (https://jitsi.org) software.
At ICDSoft, we have a long history of working from home - a Work From Home policy was implemented in our company back in 2009.
During this period, we used various ways to facilitate internal company communication - SIP phones, Jabber/XMPP server, local email, internal forums, Skype meetings, etc.
When the COVID-19 pandemic started, video meetings suddenly became very popular. We don't like using external cloud solutions which often don't meet our strict privacy requirements, so we quickly found an open-source solution that we could host ourselves and which satisfied our needs – Jitsi (https://jitsi.org).
We started using the Jitsi software locally (installed on an internal server), and we quite liked it.
Last year, we completed a hardware upgrade cycle and, as a consequence, we have lots of spare hardware resources (we always over-provision our hardware to ensure quick and easy replacement in case of failed servers, etc.).
With all this spare computing power available, and the great open-source software we all liked, we decided to develop a solution that would allow our clients and partners to communicate online the same way we do.
We configured three Jitsi server clusters at the three data center locations we use – America, Europe, and Asia, and built a custom management interface in our ICDSoft Account Panel: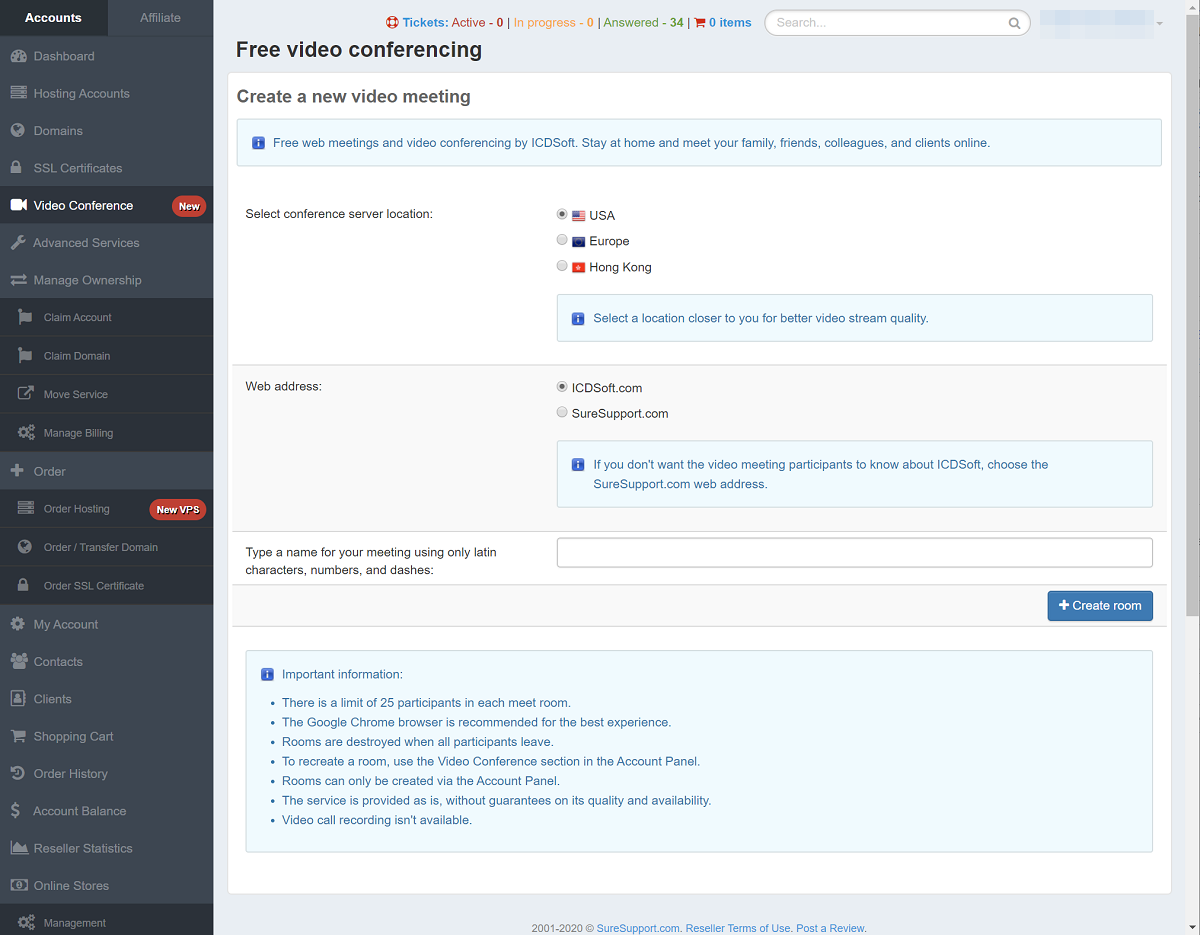 This video service is fully powered by the open-source software Jitsi (https://jitsi.org) and is available for free to all ICDSoft partners.
ICDSoft partners can start a free video meeting via the Video Conference section in the Account Panel – https://accounts.icdsoft.com.
If you don't have an ICDSoft account already, you can sign up for free at https://www.icdsoft.com/en/reseller.
After sign-up, you will be able to use the video service powered by Jitsi completely for free.
Since partner accounts get automatically created upon purchase of any service through our website, basically any client who orders from us will be able to take advantage of our free video conferencing service.
We hope our video conferencing solution will help all of you stay safe at home, keep your social contacts active, and perhaps even make some new ones without going outside.